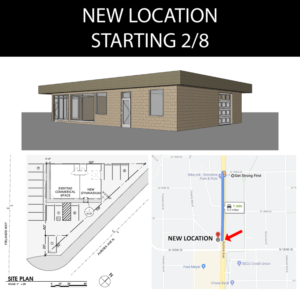 NEW LOCATION STARTING 2/8!!!
"Everyone has a plan until they get punched in the mouth"
– Mike Tyson
We had a plan.
Construction kicked our ass.
We didn't give up!
We're excited for everyone to see the new place and work with us as we adapt and iterate on new ideas and programming!
Be sure to check out the parking details before your first visit. All parking on Firlands Way is fair game, however, please be respectful to leave parking near neighboring businesses main entrances clear.
Please remember to pre-register for your classes! You can do so through our website at getstrongfirst.com/schedule or you can download the Mindbody app.
See you at 18501 Aurora Ave N, #B for the next chapter of GSF.
-Kelley & Lance

*************************
**UPDATE 10/5**
We ran into some unexpected issues during the move and need additional time to address some flooring problems and gut the bathroom. We want to make sure the job is done right and will be on the old space (19022 Aurora) for a bit longer. The new move date is TBD – hopefully in the next week or so. We'll make a post and send an email message when we're in the new space. Assume we're in the old building until you hear otherwise.
We appreciate everyone's patience and support!
*****

(original post 9/10)

To exist is to change,
to change is to mature,
to mature is to go on
creating oneself endlessly
-Henri Bergson
We're excited to announce that we'll be at our new location starting September 30! Although we'll miss the current space – this is where it all started back in 2013 – we're looking forward to a new chapter and what's to come.
We've been working hard for the last few months to get the new space ready and are eager to see how we'll evolve and adapt. A note about parking details at the new place. We've also got some schedule updates in the works.
Can't wait for you to see it.
-Lance, Kelley, and the GSF team.
—–
Last day at current location: 9/25
Closed for moving: 9/26 – 9/29
First day at new location: 9/30
18501 Aurora Ave N, #B
Shoreline, WA 98133
—–

Here's to new beginnings!