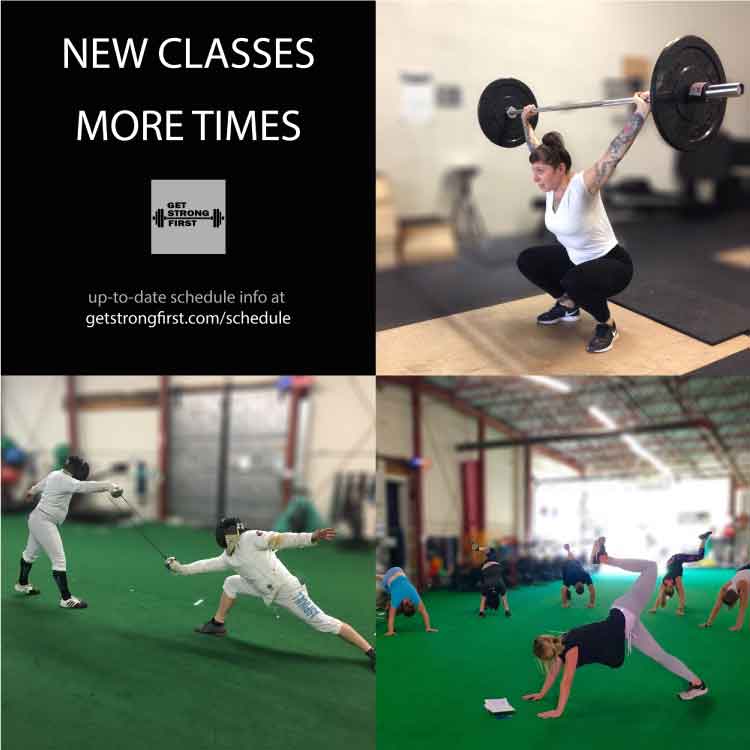 New classes.
More times.
More fun!
Yoga, fencing, and additional class times for functional training & sports performance sessions.
Vinyasa Yoga
Saturdays 10:30am with Liana.
A dynamic workout combining a series of energizing movements with meditative breath. Classes will vary to include a warm-up, power flow, balancing postures and seated postures to provide your body with both strength and restoration.
5 session yoga-only new student package (available for new and existing members, limit 1 per).
Foil Fencing
Wednesdays 4:00pm & Saturdays 11:30am with Tony.
Learn to fence through games and drills in a fun and engaging environment. Students and will proceed from blade work to introductory priority and competitive bouts. Fencing is a physically and mentally demanding sport that requires agility, footwork, coordination, and the ability to strategize on the fly.
*Fencing has been available in the past but is now open to all GSF members!
Functional Training & Sports Performance
Saturdays 8:00am, 9:15am, and 12:45pm
Monday, Wednesday, Friday 9:00 & 10:15am
Tuesday, Thursday 6:00 & 7:00am
See our schedule for specific class details.
We keep our schedule up-to-date so always remember to check back for accurate class info and times!